Welcome to the Emberverse Wiki
It is about S. M. Stirling's Emberverse with
321 articles since September 2009
For information about Mr. Stirling's other works, please visit the S. M. Stirling wiki.
WARNING
This wiki contains spoilers; virtually every page contains plot elements.
(Articles about unpublished books, characters and events are prohibited.)
Change
On March 17, 1998, the world changes. Technology fails.

In an instant, civilization is propelled backward to the middle ages.

It is not a total loss. People still have all the medical knowledge they had, if not the advanced techniques. They understand concepts like crop rotation. The tracks of the railroads are still present, although individual cars have to be towed by draft animals or propelled by people.

The Emberverse includes a number of historical characters.
S. M. Stirling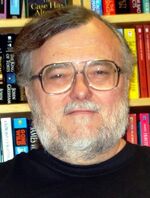 I'm a writer by trade, born in France but Canadian by origin and American by naturalization, living in New Mexico at present. My hobbies are mostly related to the craft—I love history, anthropology and archaeology, and am interested in the sciences. The martial arts are my main physical hobby. (Source: S. M. Stirling's web page)
Helping Out
To write a new article, just enter the article title in the box below.





Find out more about the wiki on the About page.

Check out the community portal to see what the community is working on, to give feedback.

Go to a Random Page, and see if there's something to be done.

Correct discrepancies between the books and anything on article pages.

Check out and comment on Candidates for Deletion

Check out "Stubs" and "Wanted Articles". Don't be shy, get in there.

Upload images to help out — see the Upload page!